Thermae Sylla Spa and Wellness Hotel is not just Greece's finest Thermal Spa, it's one of the premier Thermal Spa facilities in the world. Just a couple of hours drive and a charming short ferry ride brings you from central Athens to Edipsos (Aidipsos), on the shores of southern Evia, a view of Mt. Parnassus majestic across the waters.
A Greek Spa and Wellness Destination with a Pedigree
Amid the antiquities, the glamorous islands, and the pristine beaches, Greece is sometimes overlooked as a premier Spa and Wellness destination. But it is. In fact, decades before international visitors flocked to the beaches, during the height of the Belle Epoque, it was Spa and Wellness destinations that first drew them to Greece. And there was no destination more elegant and famed than Thermae Sylla Spa and Wellness Hotel.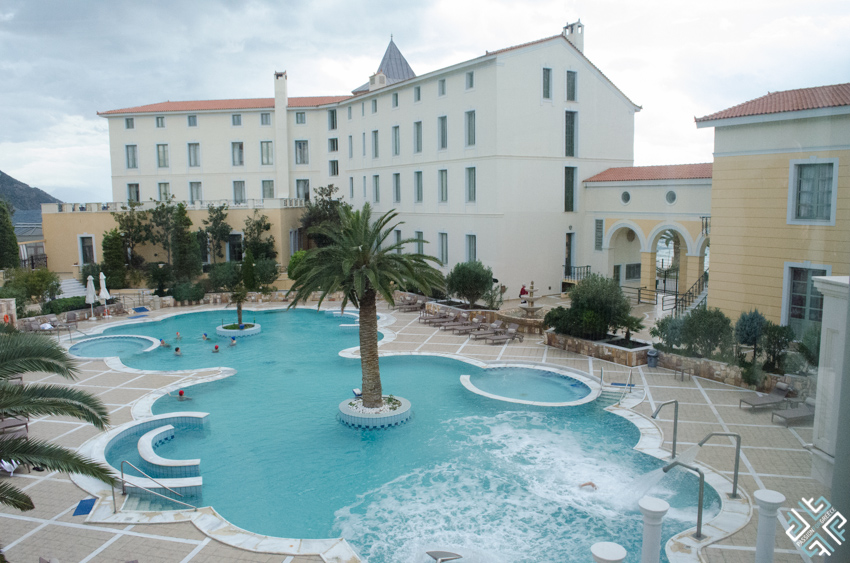 This gorgeous historic hotel opened in 1896. But the story of Thermae Sylla starts centuries earlier. The therapeutic thermal waters of Edipsos had long been famous. They were already known in the time of Aristotle, and written about by Pliny the Elder in his Naturalis Historiae as well as by Athinaeus in his Deipnosophistae. Thermae Sylla takes its name from the Roman General Sylla, alternatively Sulla, who took the waters here in the 1st century BC to healing effect. 
While this was already a popular wellness destination, there was not yet a modern hotel of European standards to offer hospitality to international guests. Thermae Sylla was elegantly designed by the architect Erricos Tobazis in grand neoclassical style with elements of Art Nouveau. The building is constructed of stone from Evia, and it incorporated every modern amenity of the day. During the construction of the grand hotel, the ruins of a Roman spa were discovered. You can see them now near the present spa.
The setting is spectacular, so dramatically close to the sea that you feel as though you're on a ship. Thermae Sylla Spa and Wellness Hotel has a strong sense of place.
And a Guestlist with a Pedigree
Queen Olga, wife of King George I of Greece, enjoyed a stay here in 1907. Other illustrious guests include Greta Garbo, Omar Sharif, Winston Churchill, Aristotle Onasis and, of course, Maria Callas – always the last word in Greece on matters of elegance and taste.
Restored and Reinvigorated at Thermae Sylla
–  That's not just you after your visit, but Thermae Sylla itself. The present owners have restored, at considerable expense, this grand historic hotel to its original elegance.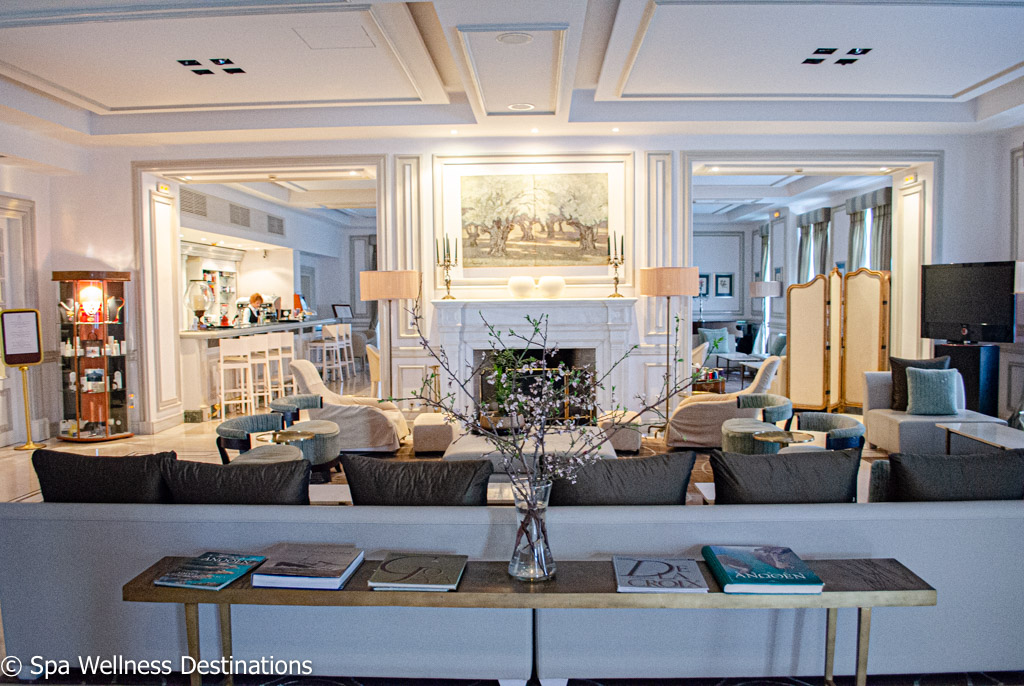 Plush fabrics and a tasteful cool palette give the classically decorated rooms a fresh touch, as do the luxurious marble bathrooms. The salon and bar have the same fresh and modern take on classical elegance. 
But the heart of the experience is of course the Spa. As splendid as the hotel is, it's really all about the spa. Owner Voula Karatziou Anastasopoulou is passionate about the excellence of the spa experience: "Thermae Sylla is not a Hotel with a Spa. It's a spa with a hotel attached." This is why you are here – the state of the art spa. The principal spa facilities are open to all guests.
The Waters of Thermae Sylla
Famous since ancient times, these mineral rich waters provide a wide range of benefits. The waters contain calcium, magnesium, sodium, potassium and sulfate, as well as trace elements including manganese, iron, and strontium (enhances bone health). They are indicated in the treatment of rheumatism, arthritis, respiratory illnesses, skin disorders, and gynaecological disorders. These are some of the most highly rated therapeutic waters in the world.
While we're happy there is some solid scientific foundation for the waters' quality, we can add our own empirical evidence. The waters left our skin plumped, smooth and glowing. We were so rejuvenated and radiant we probably would have needed an ID to get a bottle of Vodka if we were in Salt Lake City.
Waters are medicine, and as such they have recommended bathing times. We took breaks by relaxing on the chaise longues in a glassed-in terrace overlooking the splendid pool.
The Spa Facilities at Thermae Sylla
When Thermae Sylla first opened, guests took the warm waters in marble tubs set up in the basement. Things have changed.
The new owners  undertook to expand the original facilities into a world-class spa. The glamorous centerpiece is an enormous ornate outdoor thermal pool – delightful in winter too. I have floated on my back in these toasty waters as a gentle snow fell on my face – a delightful experience of nature.
Another large thermal pool indoors features jet massage and cascading water that provides a therapeutic massage. Around this are the principal spa facilities. They're beautifully appointed and are not your typical sauna or steam bath. At Thermae Sylla, everything is special. We couldn't get enough of the Farmer's Steambath –  filled with the sweet fragrance of eucalyptus and local mountain herbs that was a great improvement on the standard steam bath experience.
The aromatic steam left us invigorated and refreshed even as our muscles relaxed. In an exotically tiled chamber, we had authentic Rasul treatments, in which natural mud and chalk drew impurities from our skin in a ritual of total relaxation. The room is dreamy, the ceiling like a starry sky from which a gentle warm rain fell. Our skin emerged elastic, smooth, and tight. In a Thermal Grotto, steam from the therapeutic waters provides the same benefits of the mineral rich waters through relaxing inhalation.
Feel Better
In the dedicated treatment area of Thermae Sylla, guests can benefit from therapeutic wellness treatments from a staff of qualified medical wellness experts. Physiotherapy, hydrotherapy, jet water massage, and ultrasound treatments are among the comprehensive therapy options for relieving pain, restoring mobility, and rejuvenating the body.
Feel Great
The range of top quality pampering and beauty treatments is matchless. One can choose from every sort of rejuvenating massage by skilled masseuses.
 These include Indonesian Pantai Luar massage, in which heated balls of herbs and fruits steeped in essential oils are applied to the body to balance the flow of energy. Shirobyhang – Ayurvedic head massage focuses on the head, shoulders and back and we found it enormously effective for relieving headaches and insomnia.
Perhaps the most unique wellness treatment we tried was Shirodhara, an Ayurvedic practice in which our third eye was bathed in a continuous gentle stream of herbal oil, an unusually calming and focusing ritual. Our favorite though was the Total Mud Therapy – after relaxing with some jet water pressure and a therapeutic massage. We were wrapped like a cocoon in warm, therapeutic mud which drew impurities from the skin and left us both silky as infants as well as completely blissed out. They say the treatment is great for releasing endorphins – we found that it was.
Look Great
If you have no particular ailments and just want to emerge from your spa getaway looking like you just had a spa getaway, then you're going to be pleased. A Wine Draft – a full body treatment with grapes from Thermae Sylla's own vineyards provided tightening and exfoliation and smelled delicious. Rejuvenating facials, eye treatments, and natural lifting all give gratifyingly obvious results. Toning, firming, and anti-cellulite treatments left us feeling svelte. 
The Natural Spa Experience
Just outside the hotel's door, thermal waters come gushing from the sea wall, forming natural terraced pools of scalding therapeutic water, mercifully quite shallow, descending to the sea. The pools mix with sea water, becoming more and more tolerable as they reach the open sea. The landscape is extraordinary, steam rising from the pools carved by the waters over centuries.
I took in the experience as I saw the locals doing, by soaking in a pool as warm as hot bath water, then gingerly navigating the slippery rocks to have a swim in the cool sea, and back again. It was January, and a deliciously invigorating experience. 
The Thermae Sylla Dining Experience
This is not hotel food. Thermae Sylla has excellent dining grounded in a philosophy that unites refined international sensibility with authentic specialties and above all a dedication to wholesomeness and health.
The dedication begins at their own farm, source of all the extra-virgin olive oil. At breakfast in the Edipsos restaurant, we feasted in local specialties, such as homemade Greek pies, as well as international offerings, and fresh squeezed juices. A lunch buffet here also focuses on excellent Greek cuisine with a large selection, and many fresh salads. A la carte gourmet Greek dining in the evening is accompanied by organic wines in the Terrace Restaurant.
Adjacent to the spa, the elegant Mediterranean restaurant features Spa cuisine in addition to Mediterranean dishes, all enhanced with the farm's own olive oil and fresh herbs. Summer visitors will enjoy fresh local seafood dining directly at the edge of the sea at the Fisherman' Restaurant.
Enjoying a Classic Spa Holiday at Thermae Sylla
There are few places in the world offering this quality of a totally immersive and complete spa experience. Thermae Sylla Spa and Wellness Hotel is a rare destination with the kind of superb, warm and personal service that is quickly vanishing from our world. It's also a rare experience of Greece.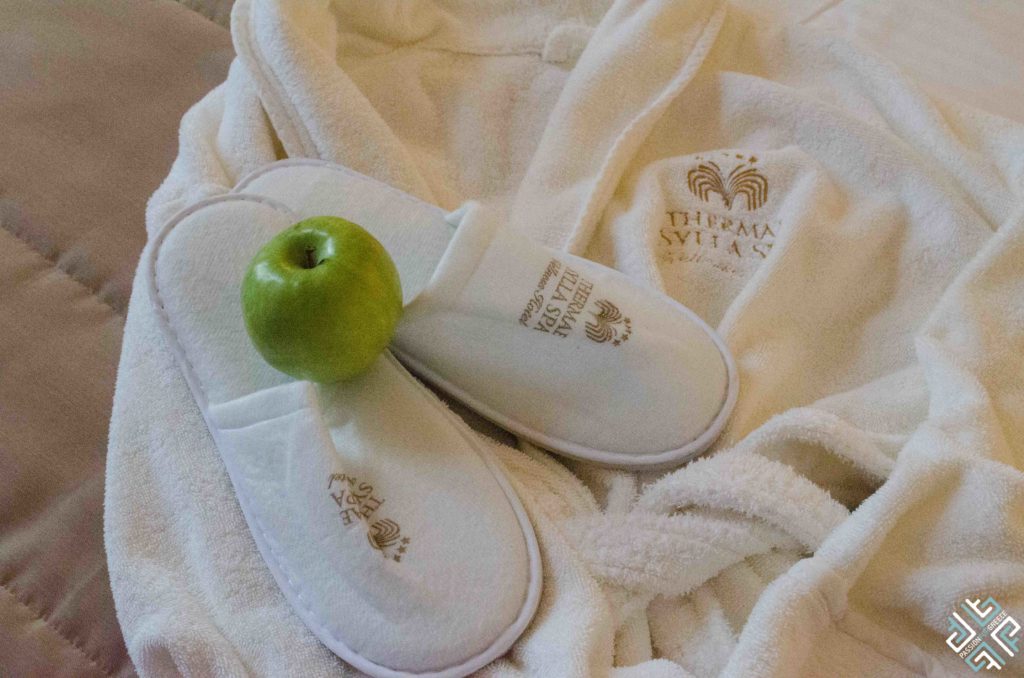 While wonderful at any time, we strongly recommend enjoying a visit in cooler weather, when the thermal waters seem most miraculous, and you can embrace the tranquility of the season. Greece's winter pleasures are many, and none finer than a stay at Thermae Sylla.