A universal eternal human  experience
Miraculously healing as the earth's thermal springs are, their true power is in helping us connect. Spa and wellness destinations are about much more than health and rejuvenation. They're places to simply … be, to shift our focus on what it means to exist. Spa and wellness destinations are more than a vacation – they give us a deeply grounding, balancing experience.
We started this blog to share our favorite travel experiences. Amid all the beautiful places we've seen, the adventures that have spiked our adrenaline, the unforgettable meals and bottles of red wine with friends and conversation, one thing always stood out. We found that our spa and wellness experiences connected us more profoundly with a destination than any other factor. Spa and Wellness destinations have redefined the travel experience for us. As the emphasis shifts from doing to simply being, travel becomes transformative. 
It makes sense. It's one thing to walk through a palace, and another thing to take off (all) your clothes and literally drink it in, like we did in Baden Baden. Maybe it's also the intimate experience of a culture: once, on a rainy day in Istanbul, I had a traditional hamam treatment. While she soaped my arms to the fingertips with soap, she sang. She wasn't singing to me; she was simply singing, because that's what they do in the hamam. With her vocal chords softened by years of steam, and the acoustics of the domed Çemberlitaş hamam, centuries old, she sounded like an angel. In Budapest, l shared the glamorous neo Baroque Szechenyi baths with some old men playing chess in the warm outdoor therapeutic waters, as steam rose into the winter sky (Amber). 
Travelers who love art and architecture will also be enchanted. The loveliest buildings we have created over the centuries have been to worship God, to house our great works of art, and – enchantingly – to bathe ourselves.   
Maybe it's the stillness, the contemplative mood in these timeless spaces – spa destinations have a way of elevating our consciousness. The connection to nature is also profound. Whether in luxurious, historic baths, or in rough natural pools under a canopy of trees, when you slip into warm healing waters gushing up from the depths of the earth, you feel the warm embrace of the planet.
Whatever the reasons, in destinations like these we have found much more than relaxation, more than health and rejuvenation. We have found a deeper connection to culture, nature, and our better selves. We would love to share the experience with you.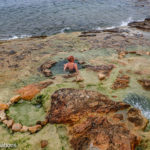 Amber Charmei is originally from Manhattan and now divides her time between Thessaloniki, Athens, and anywhere the waters take her. She writes on travel, art, and culture for magazines, creates culture apps, and writes a blog (Provocolate). In her spare time she indulges a mild Duolinguo addiction and loves the scent of old books.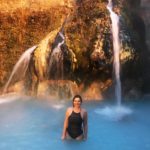 Elena Sergeeva was born in Russia and raised in Athens. Travel was in her DNA since an early age. She holds a Swiss Diploma in Hotel Management and a Master's Degree in International Hospitality and Tourism Leadership. She is also a health tourism Protégée and has been invited as a keynote speaker at Health Tourism Conferences in Athens, Dubai and Jordan to address the role of storytelling in health tourism destinations. Elena publishes several travel blogs (Passion for Hospitality, Passion for Dubai, Travel Greece Travel Europe), manages a boutique blogging agency that assists clients with storytelling, digital marketing and travel planning & consulting. In her spare time she enjoys reading books on leadership, autobiographies and self-motivation.