Few destinations foster intimacy as much as a spa. Simply being in the moment together is a spiritual necessity, but sometimes it's all too difficult to achieve. For a romantic couple break, a spa provides the ideal atmosphere to focus on nothing but each other. One of the best things about a spa is that they are principally about being- not doing.
Romantic Spa Breaks: Which one should you choose?
To Reconnect, First Disconnect
A Spa Break is unlike any other kind of break. It's not about acquiring new experiences, adding to a tally, or checking things off a list. A spa break actually accomplishes the opposite – letting go of tension, setting aside everyday concerns. This makes for quality time as a couple.
Focusing on the Physical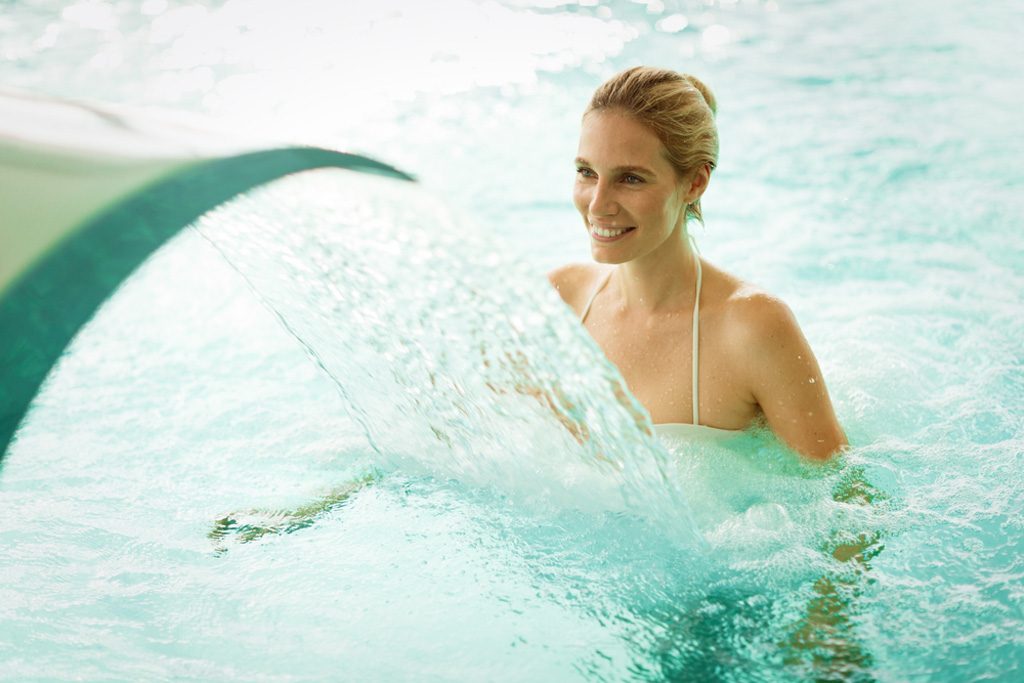 A spa break is about more than pleasure and relaxation. It is about refocusing the consciousness to total wellness. When the body is in a state of harmony, the soul can't help but follow.
Romantic Leisure Activities
In spa destinations, many of the leisure activities are centered around the spa lifestyle. Enjoy museums, classical music, good food and wine in elegant settings, cafes, all in a genteel atmosphere. There is a relaxed pace in spa towns. These are places that are suited to conversation and really connecting.
Favorite Couples' Destinations
Some spa cultures feature a strictly single-sex experience. Although this will work for some couples, we have included here experiences that women and men can also enjoy together.
Other spa cultures are not only unisex, but boldly so: 'textile-free' bathing is common in some German spas, in particular. And this is not optional nudity– it's mandatory. It's also not as uncomfortable as it sounds, but consider this as a factor. It may outside your comfort zone, or on the other hand it might be one more experience you want to embrace together.
Explore your personal style as a couple. From the most wild natural experience of bathing in outdoor springs, to the ultimate in historic and cultural refinement, there is an ideal spa for you. Here are some of our favorite Romantic spa break destinations:
Baden Baden
With a name that means "Bathe Bathe", Baden Baden is the ultimate classic European Spa destination. This is where you come to experience the golden age of spa culture. Baden Baden was created to cater to an elite international clientele who came here to 'take the waters'. Of course, that leaves a lot of idle hours. The concept of wellness has evolved over the last century. While today a session at the spa might be supplemented by exercise, yoga, or meditation, in the 19th century, a cure was supplemented by opera and gambling, in a casino that remains a masterpiece of mid-19th century opulence and excess. Happily, in Baden Baden today you get the best of both. A cure is still accompanied by some opera and an evening in the casino, and there's some excellent hiking as well. The Black Forest awaits your exploration.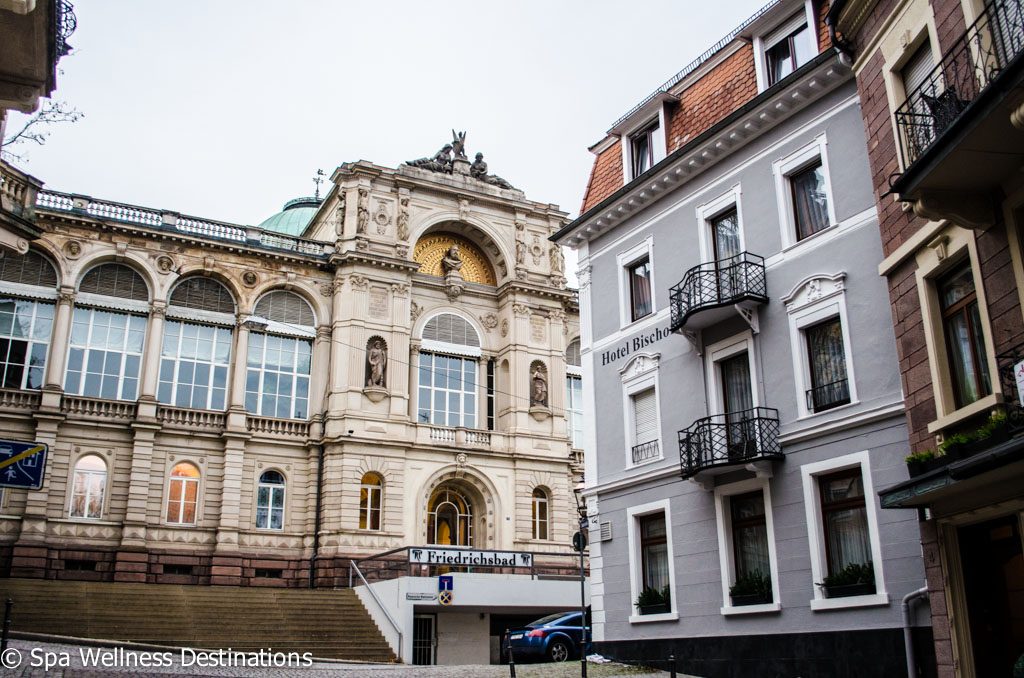 The Friedrichsbad is the 19th century bath with a 17 step time-honored strict procedure, including a full-body working over with a stiff brush and soap, and a cream massage after the baths. The other strict thing about the Friedrichsbad is the textile-free policy. On some days, men and women bathe separately, and meet (yes, still absolutely and completely nude) in the fabulous central pool under an elaborate dome.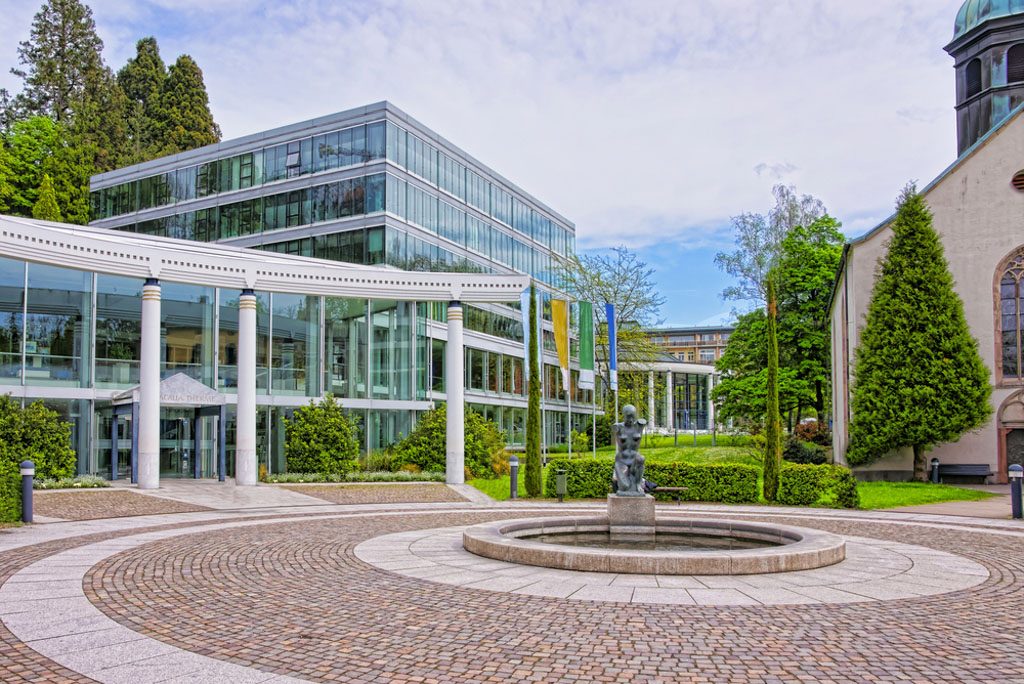 At the more contemporary Caracalla Baths, consisting of multiple pools, steam rooms, and a sauna-scape (several saunas of varying temperatures), bathing suits are worn, except in the unisex saunas, which are also strictly textile-free.
Not surprisingly, a town with this pedigree has many elegant and romantic hotel options. Brenner's Park Hotel tops the list, with the Dorint Maison Messmer and Roomers Baden Baden equally luxurious options.
Terme di Monecatini, Italy
If you are looking for a glamorous backdrop for a romantic spa holiday, Terme di Montecatini exceeds all expectations. This is a setting so beautiful it makes everyone look like an Italian film star. The springs Tettuccio, Rinfresco, Leopoldine, and Regina feed the spas.
The waters of Tuscany's premier spa town were mentioned as early as the 13th century. The current spa is set in lands filled in and reclaimed by Leopold II, in the late 18th century. Shortly thereafter, beginning in 1779, the neoclassical Tettuccio complex was constructed. This complex pump hall and colonnade with a fountain was, and is, the destination for a drinking cure. In the elegant Renaissance style Terme Excelsior building, you'll enjoy treatments for health, beauty and wellness, making use of the waters and thermal mud.
For the ultimate experience of La Dolce Vita, stay in the late 19th splendor of the Grand Hotel & La Pace Spa
Thermae Sylla, Edipsos, Greece
No one ever thinks of Greece as a spa destination. The Parthenon and the Cyclades get all the attention. But in fact spa tourism was the first kind of tourism in Greece, and the late 19th century Thermae Sylla was its premier destination. Winston Churchill, Maria Callas, Aristotle Onassis, and Greta Garbo are among the hotel's illustrious guests.  Set just meters from the sea on Evia island, with a view of Mt. Parnassus in the distance across the strait, this historic hotel combines classic glamour with modern facilities and services, and luxury with rugged natural beauty.
The atmosphere at Thermae Sylla Spa & Wellness Hotel is both genteel and relaxed- imagine sipping champagne on the elegant lounge while you're wearing your bathrobe, still fresh from the waters.
Budapest, Hungary
If your idea of romance includes some urban culture and nightlife as well as time in the spa, Budapest is uniquely suited to your wishes. The city is filled with springs and historic baths of various eras. Swim in the the Art Nouveau elegance at the Gellert, the Ottoman Mystery at the Kiraly, or Belle Epoque bling at the Szechenyi, to name just a few. Read our post on: The Art of Bathing: The Best Budapest Bath Experience
The spas are like museums in themselves they are so beautiful. But there are plenty of actual museums, romantic monuments like the Fisherman's Bastion and the Castle District, grand boulevards for strolling, and a magnificent opera house.
The other thing Budapest is famous for, besides its grand spas, is cafe culture, which was invented here. It's still thriving at the grand cafes. Relaxed from the heat of the baths, go get reacquainted with each other over a glass of wine on a velvet banquette.
But Budapest is also famous for ruin pubs and a lively, slightly gritty, fun nightlife scene. Explore the 7th district for a great selection of venues and also good restaurants and wine bars.
Budapest has a grand tradition of hospitality. The Gresham Palace is luxurious, historic, and atmospheric. The Gellert, with its famous spa attached, offers the authentic Budapest experience.
Vichy, France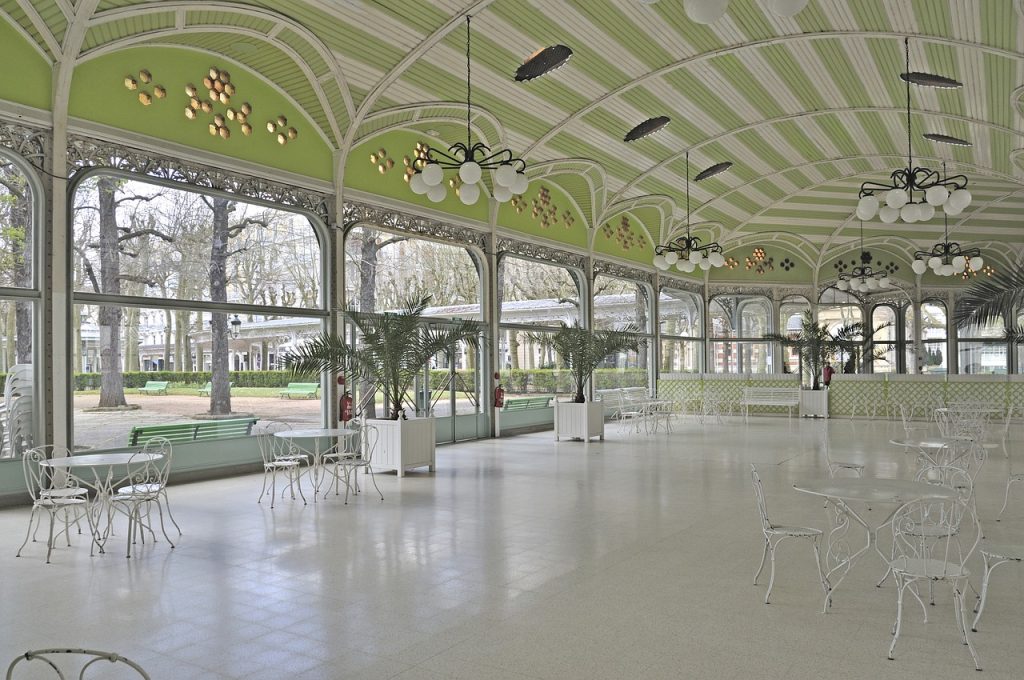 Vichy is synonymous with beauty, on account of the excellent cosmetic propertie of the waters. In fact, Vichy is beautiful inside and out- the rejuvenating waters, and the magnificent setting. This is one of the most opulent spa towns in the world.
Beautiful examples of every architectural style- Moorish, Venetian, art Nouveau – make for dreamy strolls, like through the 700 m wrought iron colonnade of the Parc de Sources. Vichy has a world famous opera house- France's only one in the Art Nouveau style, and elegant parks like the Parc Napoleon II and the Parc Kennedy. Like many spa towns, Vichy has a timeless quality which makes it perfect for romance.
Of course, this being France, you'll dine exquisitely (also essential for a romantic holiday).
For a romantic stay, the Celestine is an Art Deco treasure. The Vichy Spa Hotel Les Celestines offers five star luxury, and Europe's largest spa facility. Expect every indulgence.
Spa Destinations for a Quality Romantic Break
When you choose a historic spa destination, you are getting more than the spa experience. Historically, these are elite destinations, so the settings are magnificent. The diversions are elegant and peaceful.
But central to the romantic spa break is simply being in a setting whose sole purpose is physical relaxation and well-being- perfect conditions for romance.